2006
December 2006
It's a good thing that Fletch has that flatbed trailer!
As many of you know, Fletcher Bedell has a passion for tractors.. when he isn't riding his motorcycle. He collects tractors, fixes them, shows them and transports them.

As you can see, it's a good thing he has all that room on his trailer!

Click on the photo to view a larger version.




---


You didn't have to be a pet to visit Santa!
On Sunday, December 10th Santa came to the Inside Out Home and Gardens shop so that your pet could take a photo with him! Refreshments were served and everyone had a great time as Santa had a gift (a Milk Bone) for all who wanted one. In fact, you didn't even have to be a pet to have your photo taken with Santa. Great job, Melodie!
---
After 13 years of working for the Village of Bellport, Deputy Village Clerk, and Assistant to the Mayor, Marilyn Reich has decided to retire. November 30th was her last day.

Showing what a wonderful person Marilyn is, and what a contribution she has made to everyone in the Village, well over 100 people attended a party celebrating Marilyn's retirement.

Marilyn, and her husband Bob, will be retiring to Deerfield Beach, Florida (near Fort Lauderdale) after they sell their home here in the Village. Two of Marilyn's children already reside in that area.

Before coming to work for the Village, Marilyn owned "Plain and Fancy," a dress shop on Bellport Lane in the Village, for about seven years. When Marilyn decided to close Plain and Fancy, she thought she was going to retire, but within two days, she found herself working for the Village. It's hard to say no to Mayor Trotta. Frank knows a good thing when he sees it!

Marilyn started off as the Mayor's Assistant, but was quickly promoted to the position of Deputy Clerk. Marilyn told us that the best part of her job was seeing all the Village Residents at the counter in Village Hall. She said, "We have a lot of nice people in town... I'm going to miss Bellport."

Marilyn told us that when she first moved here from Boston over 40 years ago, she was so homesick. One day when she was walking down the street, "waving to this one and waving to that one," she realized that she was home. "This is home."

The move is stressful and Marilyn dreads the move, but if anyone would like to buy a great piano, she'd love to talk to you!

All the best to you and Bob, Marilyn!
---


December Art Exhibit at the UUFB, "Angels of Hope"
On Sunday, December 3rd, The Unitarian Universalist Fellowship of Bellport, held an opening reception for its December Art Exhibit, "Angels of Hope." This exhibit will feature the work of Frank Muller, noted nature photographer who now turns his photographic artistry to angel sculpture in his exhibit.



---


There's A New Business In Town!
"Candid Like Life Photography" is located on South Country Road, just to the right of the Bellport Deli. They specialize in wedding, portrait, pet, and event photography.

Bellport.com would like to welcome them to the Village and we wish them all the best.

Candid Like Life Photography
120 South Country Road
Bellport, NY 11713
631-803-6113





---


Unitarian Universalist Fellowship of Bellport Annual Holiday Victorian Tea...
On Saturday, December 2nd, The Unitarian Universalist Fellowship of Bellport, had their 12th Annual Holiday Victorian Tea... a sumptuous, old fashioned tea replete with homemade goodies, in their historic home decorated for the holidays. Olde Time Victrola music in view of the Great South Bay and a silent auction added to the holiday spirit. All were invited to wear period dress. Click on any photo below to view a larger version.


---
We've lived in Bellport for 35 years now and we always thought people just hibernated for the winter months and then emerged from their caves in the spring. Boy, we couldn't have been more wrong. There's A LOT going on, you just have to know where to look for it.

This past weekend, on Saturday, December 2nd, was a good example. There was a Holiday Fair at the Christ Episcopal Church, and a Christmas Bazaar at the Bellport United Methodist Church. Below are photos from each. Just click a photo to enlarge it.

Now that you know what to expect at each, you should plan on doing some of your Holiday shopping locally at the Fairs and Bazaars next year! I sure hope Rich is making the hotdogs again next year. They were great!


The Christ Episcopal Church Holiday Fair...
The Bellport United Methodist Church Christmas Bazaar...
---


Annual Bellport Holiday Festival and Tree Lighting
Unfortunately, there wasn't the usual Holiday Parade this year, but the annual tree lighting went on as scheduled on Saturday, December 2nd. Once again Jack Elsworth and his wife Dot were on hand to broadcast the event on WALK radio. The highlight of the event was a performance by the wonderful Bellport High School Gospel Chorale!
---


The Bellport Garden Club Decorates The Village...
If you like the way the Village looks for the Holidays, you can thank the Bellport Garden Club for a lot of the decorating. On the Monday before Thanksgiving, about 20 members of the Club gathered to assemble and arrange holiday greens in all the village window boxes. It was a beautiful day and a beautiful spirit was in the air as our Village was decorated and trimmed. We're already looking forward to next year and the Garden Club's Holiday Home Tour that's held every two years. Thank you members of the Garden Club!
---


Rudy Becomes the Unofficial Spokes Puppy For The Village...
Since winning Bellport.com's photo contest, Rudy has become a star in the Village. Everyone seems to know this big mush and wants to say hello to him.

As the Unofficial Spokes Puppy for the Village, Rudy wanted to draw your attention to the two new Mutt Mitt dispensers in the Village. Actually, it seems that Trustee Bob Lyons came up with this idea about five years ago. The two Mutt Mitt dispensers are located on Bellport Lane. One at the "Village Green," just north of Village Hall and the other is down at the Marina, near the canon. They dispense plastic bags that dog owners can use to clean up after their dogs if they forgot to bring a plastic bag with them.

---

November

Annual SBAA Nita Elder Student Art Show
The annual Nita Elder Student Art Show sponsored by the South Bay Art Association was held last weekend at the Community Center. This art show is for local high school seniors interested in pursuing a career in art and is designed to give students a preview of the art world by having them participate in a juried show. Over $6,000.00 in Scholarships was awarded to high school seniors pursuing a college education in the visual arts. This year's Show marked the SBAA's 20th year of providing tuition assistance to local art students!
---


Winners of the Brookhaven Free Library Children's Bake-Off Announced
36 children representing grades K-8 participated in the Brookhaven Free Library's 20th Annual Children's Bake Off. Pictured are the first place trophy winners in each of four categories; Pies, Cakes, Cookies and No- Bake Confections. Winning recipes are available at the library.

Pictured Left to Right: Arielle LaValle, Brittany LaValle, Christine Dalcamo, Matthew Mingino, Glenn McGiff, Natalie Tucker and Sarah McGiff.

---


Seven Bellport High School Musicians Selected For 2006 All-County Music Festival
Seven Bellport High School musicians were chosen to participate in the 2006 High School All-County Music Festival. The Suffolk Chapter of the New York State Council of Administrators of Music Education (NYSCAME) and the Suffolk Music Educators' Association (SCMEA) sponsor this event jointly.

Bellport has representatives in the All-County Band, Mixed Chorus and Women's Chorus. Over 14 hours of rehearsals will culminate in a concert performance at Half Hollow Hills High School East on Friday, November 17th.

Selections were made based upon each student's NYSSMA Solo Festival rating and nominations submitted by school music teachers last June. This festival recognizes Suffolk's most accomplished high school music students in grades 11 and 12. Representing Bellport are:
All-County Band:
All-County Mixed Chorus:
| | |
| --- | --- |
| Michael Celentano | Bass |
| Kaitlin Hughes | Alto |
| Devin Nelson | Soprano |
| Kathleen Stephenson | Soprano |
| Kenneth McAleese | Tenor |
All-County Women's Chorus:
---


Bellport High School Presents Dinner And A Show...
The Bellport High School performed this year's drama production, "Lend Me A Tenor" on Friday, November 3rd and Saturday, November 4th. The show was a great success! On Friday night there was a special dinner theatre performance where everyone in attendance enjoyed a complementary dinner with food donated by local restaurants. In addition, complementary tickets for both the dinner and show were offered to senior citizens on Friday night.
Director: Susan Hartmann

Producer: Suzette Fandale
Costume Design: Louise Miller
Set Design & Construction:
Mike Bicknell and Barbara Harris
Lighting: Brian Patanjo
Sound: Jim Uzzi

Cast...
Max: James Schultz
Maggie: Devin Nelson
Saunders: Matthew DeBragga
Tito Merelli: Michael Celentano
Maria: Kara Mustafa
Bellhop: John Hancock
Diana: Erin Pelkey
Julia: Felicia Raia

Crew...
Casey Neumann, Jerry D'Amadeo
Kelly McKenna, Adrianna Amaya
Andrea Leebold, Megan Lane
Taylor Peters, Michelle Dehan,
Jessica Nardulli, Viviana Amaya

Sound... Rebecca Kusa, Cayanne Merrill

Lighting... Sach McCarthy, Jon Brite


---

October
The South Country Ambulance Company

On Saturday, October 14, 2006, Gregory C. Miglino, Jr., Chief of The South Country Ambulance Company, held a public meeting in the South Country Library to explain why the fate of ambulance service in the Town Of Brookhaven may be at risk. We urge every Town Of Brookhaven resident to take the time to listen to our recording of the meeting.

Click the speaker to listen to the meeting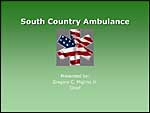 Click to view the visuals from the presentation



---
Brookhaven Town Councilwoman Carol A. Bissonette announced, at a press conference held on October 24th, 2006 at the Patchogue Volunteer Ambulance Company in Patchogue, that she has called for the full restoration of funding as submitted by each of the 9 Ambulance Districts in the Town of Brookhaven for the 2007 Fiscal Year. She was joined by Council members Steve Fiore-Rosenfeld, Kevin McCarrick, Kathleen Walsh and Timothy Mazzei, along with representatives of the Coalition of Town Volunteer Ambulance Companies (COTVAQ including representatives of the East Moriches, Manorville, Mastic, Mastic Beach, Medford, Patchogue, Port Jefferson, Shirley and South Country Ambulance companies.
The purpose of the press conference was to announce bi-partisan support to reinstate all funding to our volunteer Ambulance Companies for 2007. The plan will also establish new guidelines to ensure continued fiscal responsibility.
Councilwoman Bissonette stated that "Funding must be provided."
"Today, I am pleased to join with members of COTVAC in announcing my support to continue funding to our volunteer ambulance companies in 2007.
As the Town Council Liaison to the Town's volunteer ambulance companies I have worked closely with our ambulance volunteers to draft a comprehensive working document to continue and ensure that the town provides necessary funding for public safety.
Over the last few months the funding and budgets for our volunteer ambulance companies has become a political football. I believe that is wrong.
After scrutinizing and analyzing the proposed submitted budgets against the 2006 estimated Service Contract requests, I have found that the majority are well within reason and do not transcend unreasonable levels for Service Contract funding."
COTVAC members stated "Taking the lead on restoring funding for COTVAC members, Councilwoman Carol Bissonette working together with members of our organization, has crafted the language for a contract that will both ensure public safety remains a priority and is funded appropriately, while putting in place the kind of fiscal oversight that she and COTVAC members believe will protect the taxpayer interests."
Councilman Steve Fiore-Rosenf eld (D-CD #1) stated "I am pleased to support restoration of the Service Contracts as submitted along with this comprehensive plan that spearheaded the effort to come to a successful compromise and settlement to this vitally important Public Safety issue."
Councilman Kevin McCarrick (R-CD #2) added "I am pleased to join my fellow councilmembers in support of Councilwoman Carol Bissonette's intervention as Council Liaison to the Town Ambulance Companies to restore funding to our extremely dedicated core volunteers and EMS personnel. This is not an appropriate area to arbitrarily slash funding in the 2007 Budget; Councilwoman Bissonette's efforts to work with the Ambulance Companies instead of against them will provide the best possible outcome for all of our residents."
Councilman Timothy P. Mazzei (R-CD #5) commented, "I am pleased to stand here today in a bipartisan manner to support the restoration of our Ambulance District funding. The emphasis on budgeting should be to place public safety first. I applaud Councilwoman Bissonette's dedication to finding a positive solution to this issue and for the comprehensive plan that she has crafted with COTVAC to address their budgets and the upcoming contract."
Councilwoman Bissonette provided a comprehensive plan that includes guidelines for Fiscal Accountability, Vehicle Control, LOSAP, Fund Balance, Budgets and Performance Standards beginning with 2007. The plan addresses issues such as uniform reporting, quarterly filings, salaried personnel and the establishment of a new Town of Brookhaven Emergency Service Personnel Staffing standard.
"The working document we outline here today is a guide that should be used by the town of Brookhaven when we renew the Ambulance Company contracts later this year. This guide has the unanimous support of our EMS volunteers and will help continue to provide the necessary fiscal oversights to ensure the towns' residents are getting the best EMS services possible," stated Councilwoman Bissonette.
COTVAC further stated "that they are pleased to join with members of the Town Council to announce that Public Safety has once again been made a priority. Working in conjunction with Councilwoman Bissonette, the Town of Brookhaven Fire and EMS Liaison, we have developed a comprehensive plan that restores our budgets to the safe levels we submitted, while putting in place the fiduciary oversight that will permit the departments to be transparent to the taxpayers they serve."

Click the speaker to listen to Councilwoman Bissonette's comments in their entirety

---


The Village of Bellport Proclaims October 28th as "South Bay Art Association Day!"
At the SBAA's 50th Anniversary Dinner Dance, Village Clerk, Roger Terrell, on behalf of Mayor Frank Trotta, presented the SBAA with a plaque proclaiming that October 28th be recognized as "South Bay Art Association Day." Their long standing passion for the arts makes them an asset to our community and Bellport.com wishes them many more years of continued success! Click here for more information.









---


Halloween at The Bellport Restaurant Was Shocking in More Ways than One!
Once again, The Bellport restaurant held their annual Halloween Masquerade Party. The restaurant was packed.

Skip Bement started off the evening playing acoustic Blues and he was to be followed by the Four Guys In Glasses Band. However, before the band could start, there was a flash and sparks outside on the street and the lights went out! We were amazed at how quickly the candles came out and no one skipped a beat eating and drinking. We know the show must go on, but Patricia and Taylor out did themselves.

If you haven't visited The Bellport lately, you really should give them a try. Click any photo below to view a larger version...
---

It's the South Bay Art Association's 50th Anniversary!
Founded in November of 1956, the SBAA is now 50 years old. We attended their celebration and took lots of photos that we'd like to share with you. Click here to visit the SBAA's page on Bellport.com.







---

The Annual Halloween Parade
What can we say? It rained, the wind blew, but the show, and the Parade, must go on! Click here to read all about it.









---

Bellport High School Homecoming Parade
On Saturday, October 21st, the annual Homecoming Parade took to the streets of Bellport prior to the big game. Cheerleaders, the band, floats and the homecoming court were all featured in the parade. Click here to see more photos from the parade and the rest of the Homecoming festivities!





---


The Bellport Teachers Association "Makes Strides" Against Breast Cancer
Members of the Bellport Teachers Association, as well as the Board of Education, walked together to raise money for Breast Cancer research at Jones beach on Sunday, October 15, 2006. The BTA collected close to $3,000. Donations will still be accepted until October 31st. Events like this have helped breast cancer research make great gains in the past few years. Way to go, BTA!




---

Wow! What A Weekend!!!
This past weekend, October 14th and 15th was absolutely amazing. There was so much going on in the Village that if you hadn't copied and written it all down from our Bellport.com Calendar, you were sure to miss something important. Below you'll find just some what was going on...


The Village Gets A Face Lift...
The shops and businesses in the Village have gone all out to decorate for the Fall and Halloween. Don't forget the annual Halloween Parade which will be held on Saturday, October 28th this year. Give yourself a few extra minutes when you go shopping so that you can stroll around town and enjoy their creative efforts.


Bellport Fire Dept Fire Safety Open House
On Saturday, October 14th, the Bellport Fire Department held their annual Fire Safety Open House. The day was a combination of fun, food, and some serious learning of what to do and what not to do if you're ever confronted by a fire.

The kids had a great time, but they also had a chance to go through the Fire Safety Trailer which simulates the conditions the children would find in a real fire. There were Bellport Firemen at each step along the way to show the children skills that could some day save their lives.

Great job, Bellport Fire Dept!


SBAA Special Exhibition of the Sketch Group and Plein Air Sessions
On Saturday and Sunday, October 14th and 15th, the SBAA held a Special Exhibition dedicated to their long time member, Joe Riccardi. All were welcome and refreshments were served. Below are just some of the wonderful pieces which were exhibited.
---


Rudy's A Winner!
As you already know, Penny Arthur, left, was the winner of our first ever photo contest. She won with her wonderful photo of her St. Bernard, Rudy. Rudy is still a baby and he'll turn one year old in November. Some baby! Maybe we should have a town birthday party for him!

For her efforts, Penny won lunch for two (presented by Eileen Sribnick of Bellport.com) at The Sugar Loaf Cafe, provided by Cafe owner Jackson Costa and former Village Trustee, John Orlando of Lucia and Orlando Funeral Home in Patchogue. Rudy got the Milk Bone Dog Biscuits!

Once again, congratulations to Penny and for the rest of you, our second photo contest will be underway soon, so get moving!

Click here to find out how to submit a photo to our Photo Gallery.


---


The First Ever Knit Out Was A Huge Success!
On Saturday, October 14th, the first ever Knit Out was held in the Sugar Loaf Cafe's Community Room, just behind the restaurant. As you can see from the photo, the turn out was tremendous and that probably means that the program will continue. We'll be sure to let you know when and if a second Knit Out is scheduled.

The gathering was idea of local residents Lori Horsley, Nancy Tropin and Theresa Tropin and was sponsored, free of charge, by the Sugar Loaf.

Free simple patterns were available as well as yarn, hooks and needles so that anyone who wanted to learn how to knit or crochet could. Experienced knitters were on hand to teach, and everyone was encouraged to bring a project to share with the group. This event was open to men and women as well as to kids.


---


Saturday Soiree: A Celebration of the Spoken Word
On Saturday, October 7th, "Saturday Soiree" premiered as an informal weekly gathering in the book-filled room behind the Sugarloaf Cafe. During these celebrations of the spoken word, authors and poets can share their work, while storytellers and readers with backgrounds in theater can share their skills. At the first soiree, author Alice McLerran offered all-age picture books that are now translated and read around the globe. These gatherings are planned to be social events, as well as literary ones. Those attending may bring their own wine or beer; non-alcoholic beverages and snacks available from the cafe. For more information, or to suggest future presenters, call 631-286-8503.


---
Last night, Bellport.com, and 50,000 of our closest friends, attended the opening playoff game between the Dodgers and the Mets at Shea Stadium. Somewhere in the crowd above, Mayor Trotta is hiding. Enlarge each of the photos by clicking on it and see if you can find Frank. When you think you have him spotted, click on the baseball below to see if you're right!
---


The Bellport Coffee "Klatch"
We've noticed an interesting phenomena in the Village. Just about every morning, from about 8:00am on, a group of really nice people seems to informally meet at the Sugar Loaf Cafe for coffee and a lot of friendly discussion. Although there are regulars, the members of the group seem to change depending on the day of the week and the time of the morning. Everyone is welcome, so stop down, grab a cup of coffee and pull up a chair. You'll be glad you did.

---

September


Photo Contest Winner!

Click here to see the Winner of our First Photo Contest!







---


Greenwich Village Noshing Tour
If you weren't there, last Thursday, September 28th, you missed out on a wonderful day in the City! The Mastics-Moriches-Shirley Community Library sponsored a walking and eating tour of unique food establishments in the heart of Greenwich Village!

This three hour guided walking tour featured a wide variety of foods from many different cultures. There were hot biscuits, perogies, fresh cheese and sausage, and fresh-filled cannoli, just to name a few of the choices. One of the best features of the tour was that it was guided. Rather than being on your own, everyone moved from shop to shop lead by a knowledgeable guide who made sure that every didn't miss a thing. We'll be sure to let you know when the next tour is scheduled!
---


Senior Living Meeting
For some time now, a group of local residents, headed by Audrey Pappaeliou, has been meeting to discuss how the Village could better help and support the seniors in our community. In fact, they recently met with Mayor Trotta in the hopes that the group could become an official Committee in the Village.

On Thursday, September 28th the group met in the meeting room behind the Sugar Loaf Cafe. The guest speaker was Paul Arfin, the former Chair of the Suffolk County commission on Creative Retirement. The main discussion centered around "co-housing" planning and alternatives.
---

Boys and Girls Club of the Bellport Area "Day For Kids"
On Saturday, September 16th, more than 300 people gathered at Robert Rowley Park to participate in the Boys & Girls Club of the Bellport Area (BGCBA) Day for Kids. This event, held annually on the third Saturday of September, celebrates the importance of establishing stronger relationships between children and adults. Click here for more information and to view photos from the event!



---

OK, so why is the NYCLU threatening to sue the Village of Bellport?
---

Additional New Services at the South Country Library
The Suffolk Historic Newspapers collection is now available on the South Country Library website. Four local historic newspapers have been digitized for easy access:The Long Islander (Huntington) 1839 - 1861, The Corrector (Sag Harbor) 1858 - 1871, South Side Signal (Babylon) 1869 - 1879, and The Long Island Traveler (Southold) 1880 - 1892.

---

August
LIGALY "On The Bay" Fundraiser
On Sunday, August 20th, LIGALY held their annual "On the Bay" fundraiser event in Bellport. This year, screen legend Isabella Rossellini and Tony Award-winning author and playwright Terrence McNally were joined by actor Alan Cumming who was recognized for his work in promoting GLBT visibility. Click here for more details about the event.




---

Trustee Sherry Binnington Meets With Village Residents
On Saturday, August 5th, Trustee Sherry Binnington held an informal meeting with Village residents to discuss any questions, problems, or issues the residents might have. The hour and a half meeting covered a broad range of topics and Trustee Binnington plans on having these meetings once a month.




---

Wedding At The Village Marina
Germaine D'Amico and Joseph Skelly we married by Judge Roe at the Village Marina on Saturday, August 5th. It was a beautiful day and ceremony. We wish the bride and groom all the best.








---

Bellport High School Class of 1966 Reunion
The Bellport High School Class of 1966 had their 40th Class Reunion during the weekend of August 4th-6th. An entire weekend of activities was planned and everyone had a great time! Click here to see photos from the weekend!





---

July
Deputy Mayor John Orlando Becomes "Captain" John Orlando!
After 28 years of dedicated service to the Village of Bellport, Deputy Mayor, John Orlando is honored by Mayor Trotta and Trustees Bob Lyons, Phil Gallo, and Lee Snead. You won't have to look far to find John. On Mondays, you'll be able to find Captain John Orlando at the helm of the Village Ferry, the Whalehouse Point. Congratulations John!
---

Bellport's Newest Trustee Is Sworn Into Office
Sherry Binnington, was sworn in as Bellport's newest Trustee at the Village's monthly Board meeting, held on Monday night, July 31st. We wish her all the best in her new position!

Sherry will be holding a public meeting, "Exchange of Ideas" on Saturday, August 5th to hear from Village residents. Click here for more information about the meeting.




---

Bellport Day Festival 2006
Although it threatened to be a rainy day, lots of people came out to enjoy Bellport Day, which was held on Saturday, July 22nd. Click here to see more photos from the festival!




---

"Artists On The Lane" 4th of July Art Show
The South Bay Art Association recently held their annual 4th of July Art Show, "Artists On the Lane." This is one of the largest outdoor art shows on Long Island and draws artists from all over the country. The show is devoted to fine art, displayed along the sidewalks of Bellport Lane, all the way down to the Bay. Click here to see more photos from this year's event!


---

June
Recent Bellport Camera Club Events
The Bellport Camera Club has been very busy! Last month, they participated in the Kendra & Friends Art Show Fundraiser that was held at the Bellport United Methodist Church. The club's President, Hank Velten, is shown in the photo to the left adjusting one of his photographs. The Bellport Camera Club sold five photographs for the benefit of OCEANS. They felt that it was very enjoyable to plan an exhibit of this sort, and very rewarding when the project was such a success.

In addition, the club recently took a field trip to Newport, Rhode Island. Although the weather was damp and foggy, club members were able to take some remarkable photographs. The photos below were taken on the "Cliff Walk." Click on any photo to view a larger version.

---

Bellport Garden Club's Tour Of Local Gardens
On Saturday, June 10th, the Bellport Garden Club held its Annual Tour of Local Gardens. The event featured many homes in the area and was a great success! An addition to the tour this year included artists painting the gardens before and after the tour. Plants from members' gardens were on sale at the event, as well as garden ornaments, gloves and small tools. There were even raffles for floral arrangements! Click here for more information about the Garden Club.



---

LIGALY "When Ocean Meets Sky" Film Screening Fundraiser
On Sunday, June 4th, LIGALY held a benefit film screening of "When Ocean Meets Sky" at Painters' Restaurant in Brookhaven. The documentary tells the story of the Fire Island Pines on its 50th anniversary through personal stories including those by Carson Kressley of Queer Eye for the Straight Guy, "Boys in the Band" writer Mart Crowley, and 101 year-old Pines resident Alice Thorpe to name a few. The photo to the left is a group shot outside Painters' - included are members of LIGALY, The Bellport Film Society, Crayton Robey, Randy Jones, and the owners of Painters. A great group effort producing an outstanding event! Click on any photo below to view a larger version.


| | | |
| --- | --- | --- |
| | | A "standing room only" crowd waits in anticipation of When Ocean Meets Sky. |
| | | |
| | | Michael Heitner, Board President of LIGALY introducing Crayton Robey, Director of When Ocean Meets Sky, and Randy Jones, the original "cowboy" from the Village people. |
| | | |
| | | Randy Jones of the original "Village People" with Michael Heitner Board President of LIGALY. |
---


Boating with the Baymen: Sailing the Great South Bay...
We just spent a wonderful afternoon out on the Great South Bay and we wanted to share it with you. This annual tour of the bay is conducted by Long Island Traditions and it left from the Bayshore Marina aboard the Lauren Kristy.

The 3 hour tour includes the Great South Bay, Robert Moses Park and Oak Beach. Our tour was lead by folklorist and architectural historian Nancy Solomon and included guest speakers John Buczak, George Rigby Jr. and Sr. (Baymen), Lesley Kane (Captree bay house owner), and Jeff Kassner (Environmental Planner). Visually, it was a wonderful experience, as you'll be able to see from the photos below), but we also learned a lot about the history of the bay, the homes there, the men and women who make their livings from the bay, and the delicate ecological balance of the bay. Here's a link to the Long Island Traditions website...

Long Island Traditions

Click on any photo below to view a larger version.
---

May 2006
Memorial Day Parade Video
The annual Memorial Day Parade was held on Monday, May 29th. Click here to view video from this year's parade.







---

SBAA Annual Member Exhibit
Over Memorial Day Weekend, the South Bay Art Association (SBAA) celebrated its 50th Anniversary with its annual Member Exhibit. A reception was held on Friday night, May 26th, and the Exhibit continued through Monday, May 29th. Many art mediums were featured, including paintings, photographs and sculptures. You can view additional photographs of featured artwork from the show on the SBAA's page on Bellport.com. Click here to view additional artwork from the exhibit.

Click on any photo below to view a larger version.






---

Meet & Greet With New South Country School District Superintendent, Dr. Agruso
Wednesday evening, May 24th, the South Country School District PTA sponsored a "Meet The New Superintendent" get together. PTA Council President, Annemarie Curcio (left), along with 75 South Country School District residents turned out to welcome our new District Superintendent, Dr. Agruso, (right). Dr. Agruso shared with those present her background and some of her plans for the future of the South Country School District. We were very impressed and we think the district couldn't have made a better choice! We think Dr. Agruso is a wonderful addition to our community.
---

The Bellport Film Society Holds Their Sixth Annual Fundraiser: "The Derby Jubilee" and Live Art Auction
The Bellport Film Society held their sixth annual fundraiser on Saturday, May 6th at the Gateway Playhouse in Bellport. This year's theme was "The Derby Jubilee." The event featured a live art auction, cocktail party, and even a hat contest! Below are some photos taken by Mary Long at the event.

| | | |
| --- | --- | --- |
| | | Auctioneer Christopher Judge working hard to raise money at the Gateway Playhouse to fund BFS programming. |
---

March
Bellport Tennis Pro Honored
Bob Costanzo, the tennis director and head pro at the Bellport Country Club Tennis Center, was named the Professional Tennis Registry Eastern Tennis Pro of the Year for 2005. The award honors those who give exemplary service, develop programs following guidelines of the PTR, and are ambassadors of true sportsmanship. The award was presented to Bob at the USTA/PTR annual meeting and awards luncheon.










---

BHS Students In Teen Trend Magazine
Bellport High School students are featured in the April issue of the new magazine, Teen Trend Magazine. The April issue is the premiere issue and is all about the Prom! The photo shoot featured 14 Bellport High School students. Click on the photo to the left for a larger version of one of the photos from the shoot!



---

February
Free Desktop Wallpaper For Your Computer Screen
Would you like to have a copy of this Jody Love watercolor to use on your desktop as a background or wallpaper? It's free, just click here!






---

First Snow Of 2006
For all you Bellport "Snowbirds" in Florida, California, and Arizona, we thought you'd enjoy seeing what you're missing. Click here to see the photos.





---

Iceboating Video
Well, it doesn't look like the bay will get cold enough for iceboating this year so we thought you'd like to see a video of iceboating from the recent past. Click here to view the video.






---

January
New Village Board and Committee Members
At the January 30, 2006 Village Board Meeting, Mayor Trotta swore in 25 new members to various Boards and Commissions in the Village. Click on the photo to see a larger version.


---

News At "The Villa"
For all you "Snowbirds" who have headed for warmer climates, we thought you'd like to see the amazing transformation that "The Villa" on South Country Road is going through. It's wonderful to see a fine old house like The Villa being renovated with the love and care that is obviously being used. Bellport.com applauds the new owners! Click on the photo to see a larger version.