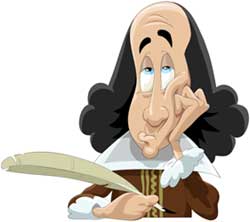 There Are Some Good Things That Have Been Happening Too!
March 25, 2020
With all the doom and gloom around us, I thought I'd share some good things and thoughts that have been happening around me. I guess I'm a "glass half full" kinda guy.

If you're lucky enough to be using an iPhone, iPad, or a Mac computer, FaceTime is absolutely wonderful. It allows users to stay in touch with audio, like a phone call, and with video too like a TV. We've been able to talk to and see our grandchildren and our daughter and son-in-law several times a day even though we're hiding under the bed here in Bellport while they are in Arizona. It's not as good as being there, but it sure is a great way to stay in touch. I think they'll worry a little less about us this way too.

Some of you may know that for over 15 years now, my wife and I have been hosting a weekly coffee gathering for our friends here at our home in Bellport. On any given Tuesday we never know who will stop by, but there are 24 people who might. Well, this past Tuesday, I discovered that 12 of us were using iPhones so I set up an hour long "Group" FaceTime call for 12 of us at the same time. Each of us was in our own home and it worked great! Click Here if you'd like more information about Group FaceTime.

If you don't have an Apple product, Skype is a great alternative. Click here for more information about Skype.

Another great thing that's been happening is all the phone calls we've been getting from friends around the country, some of whom we haven't seen in years. It's very touching that they're concerned about us and would like to help, but of course, they can't. It gives you a good feeling.

We've also been getting email messages from many of you thanking us for the way we're handling our coverage of the Coronavirus. We call this our "Hurricane" mode. For over 16 years now, whenever a hurricane was coming, we go into an "around the clock" mode where we're collecting information and then updating Bellport.com and sending our special emailings when we think the information warrants it rather than you waiting for one of our weekly, Tuesday morning, Email Blasts. We're plugged into National, State, County, and Town sources as well as the Police Department, Fire Department, Ambulance Company and NOAA contacts and news feeds. With our very limited staff, we can't promise we'll catch everything, but I think we're doing a pretty good job with what we've got.

And, how about friends who just stop by? We had been holed up for almost two weeks when two good friends stopped by to say hello. It was a beautiful day so, maintaining about a 10' distance, we all walked around back and sat on our deck for an hour catching up. We realized we really missed seeing people.

Another great thing is the Bellport Country Club. Aren't they great giving away free meals to those in need?

Yet another great local business is Deer Run Farms. They opened early for the year and with extended hours to support our local residents. We look forward to their opening every year, but this year was special.

How about the Bellport Village DPW continuing on time garbage pickup in spite of all that's going on. Way to go guys!

Finally, I'd like to say how lucky I am to be living in New York State. I've traveled all over the country and we lived in Indiana for two years while I was in Grad School. Watching the coverage from around the country, there's no place like New York. And specifically, putting all politics aside, Governor Andrew Cuomo is doing a wonderful job and I'd like to sincerely thank him. He has stepped up and looked out for us when Washington DC was ignoring us.

OK, these are some of the good things that are happening around me and that I am thankful for. What about you??? Drop me a note about the positive things you see happening at this very stressful time. How are you coping? Are there special people, businesses, or government agencies you'd like to single out for special mention? We want to publish your thoughts. Be sure to give us your name and the town you live in and we'll do the rest. Send them to Larry@Bellport.com.

Update:
We've received a few letters so far and have posted them on our Letters to the Editor page!