---
Recent Deer Sightings In Bellport
Researching The History Of Your House
---

Brookhaven Hamlet Has A New, Unleashed, Dog Run!
Considering how popular the Holidays Dog Parade was in Bellport village, it's big news that, thanks to Legislator Kate Browning, Brookhaven Hamlet has a new, unleashed, 2.6 acre dog run, on Montauk Highway, a few miles from Bellport Village. The new facility will be open to the public and fills a much needed service for eastern Suffolk County dog owners. The dog park is a pilot program being managed by the Suffolk County Parks Department.

Legislator Browning has been advocating for a dog run in her district along with Ginny Munger Kahn, President of Long Island Dog Group, and Johan McConnell, President of South Yaphank Civic Organization, for the past four years. She worked with County Parks Commissioner John Pavacic to fast track the opening of the pilot program while the county works on larger designs for a fully operational dog park in Southaven Park. Resolution 461-2007 directed the Department of Parks and Recreation to identify five locations with geographical balance throughout Suffolk County for dog parks. The county currently operates fully serviced dog parks at Blydenburgh County Park and West Hills, both in Western Suffolk.

"For years residents in eastern Suffolk have been traveling to Hauppauge and Huntington to enjoy recreational activities with their dogs," stated Browning. "This has been an inconvenience for dog owners in Brookhaven and farther east. It is especially difficult for owners that live in apartments and don't have yards to allow their dogs to run freely in."

The pilot program at Robinson Duck Farm Park will not be staffed by county employees and dog owners must pick up after their dogs when they are leaving. There are currently no trash receptacles on site and it is bounded by snow fencing. Although the dog run will be open for use starting Sunday, December 13, 2009 Legislator Browning will be making a request for the county to upgrade the facility with trash receptacles and gates for entering and leaving the site. She fears dogs may escape causing a dangerous situation with Montauk Highway near by, and with Southaven Park and Smith Point Park so close by she feels it should be easy for the Park's Department to have trash collection there.

"The facility is open to the public and everyone should start utilizing the site," concluded Browning. "However, I think we still need to make additional upgrades for safety and convenience to dog owners and their dogs."

Legislator Browning has worked closely with Long Island Dog Group, a proactive dog organization that has been advocating the need for dog runs for years.

"We are thrilled with this pilot program and the expansion or services for dog owners in Suffolk County," stated President Ginny Munger Kahn. "Legislator Browning has given us tremendous support, and we would not be standing here today if it was not for her efforts. We look forward to continuing that relationship by working towards fully serviced dog parks throughout our county parks system."

"As President of the South Yaphank Civic Association and a dog owner, I want to thank Legislator Browning for her effort on behalf of all the dog owners in her district for getting a dog park at the Robertson Duck Farm," stated Johan McConnell. "Dog owners will now have the opportunity to socialize their dogs and to meet other owner, within a natural border area. Again, thank you to Legislator Browning."
Group Pictured above from left to right: (Sean Browning and his dog "Juno", President Ginny Munger Kahn of LI Dog Group, Legislator Kate Browning, Vice President of LI Dog Ed McMullin and his wife Arlyne and their dogs Tat and Cheti, Johan McConnell, President of the South Yaphank Civic Association, and Claire Goad, Friends of Wertheim)
---
| | |
| --- | --- |
| | Click to send us a comment |
---
Several years ago, I bought two webcams to use as part of an online music project I was thinking about doing. If you're not familiar webcams, they are simple cameras that plug into your computer and turn your computer into a video phone. You can place a call to someone over the internet and if they also have a webcam, and the right software, you'll not only be able to talk to them over the internet, but you'll also see them on your screen as you talk to them. Well, I couldn't find time for the music project so the pair of webcams I bought just sat on a shelf.
A little over a year ago, our first grandchild, Emily, was born and for about seven months I kept saying that I really needed to set up the webcams so that we could visit with our daughter Erin, her husband Josh, and little Emily over the internet to their home in Los Angeles using the webcams. Well, you know how it goes, so much to do and so little time, so again the webcams sat on the shelf
.
This past July, nine month old Emily came to Bellport to visit us. The family was together for two weeks and we really got to know Emily, she's wonderful! The problem was, we didn't want her to forget us when she went home as we wouldn't see her again for another two months. Suddenly, I had an "aha" moment! The webcams!!
!
When Erin and her family returned to LA, I gave them one of the webcams to take along. Well, I have to tell you that this is one of the best things I've ever done and I've been kicking myself for not doing it sooner. Calling them over the computer is now like being right there with them. Emily sees us and knows who we are. You can't imagine the feeling when we see her face light up when we connect and she first sees our faces on her screen in California. It's absolutely priceless. She is just so excited to see us.
So, what are all you parents and grandparents waiting for? GO OUT AND GET A WEBCAM OR TWO! I have absolutely no financial stake in the information about to give you, but I wanted to make some specific recommendations based on my experiences. I'm sure there are other ways to go that are just as good, or maybe better, but we couldn't be happier with the equipment and software we're using.
First, the webcam. Logitech is pretty much the leader in webcams. We're using their Quickcam Pro 9000 which lists for $99.95, but Amazon usually sells it on sale with free shipping. By the way, the microphone built into the Pro 9000 works perfectly so don't bother buying a separate microphone or headpiece. Here's a link to Logitech's info:
http://www.logitech.com/index.cfm/webcam_communications/webcams/&cl=us,en
Here's a link to Amazon's page for the Pro 9000:
http://www.amazon.com/Logitech-960-000048-QuickCam-Pro-9000/dp/B000RZQZM0/ref=pd_bbs_sr_1?ie=UTF8&s=electronics&qid=1227902386&sr=8-1
I'm a Windows user so the above information is for Windows computers. If you're a Mac user, I can't really make any recommendations because I don't have any experience with the Mac, but Logitech makes webcams for the Mac and I'm told that many Macs come with webcams built right into the monitor.
Installing the webcam is really easy. First you install the software that comes with the webcam and after the software is installed, you plug the webcam into a USB port and you're ready to go.
The next thing you'll want to do is choose and install the software you're going to use to connect your webcam with someone else's over the internet. The software that came with the webcam only operates the webcam. It doesn't make "video phone" connections over the internet.
There are two programs that I'm going to recommend, Skype and ooVoo. They are both FREE!
Skype, http://www.skype.com/ , is terrific if you simply want to connect your computer to someone else's over the internet. You visit their website, download the free software, install it, and you're ready to go. They'll ask you for your email address and the name you'd like to use for yourself. The quality of the image is amazing. Once you, and the person you'd like to connect with have Skype installed on your machines, you're all set. There are even ways to find out if other people you know have Skype installed on their computers.
ooVoo, http://www.oovoo.com/ , is a new service to connect webcams over the internet. Frankly, its image quality is not as good as Skype and I wouldn't recommend it if it weren't for one amazing feature that it has. It will connect up to six different webcams together over the internet so that up to six people can meet online with all six of their images on the screen at the same time. If you have a family spread out around the country or the world, this is a wonderful feature. Installation and setup is very similar to Skype.
So which one should you download and use? Both! They are both free and you can have both installed on you computer at the same time. Just start the one you want to use and make the connection. There's nothing to it.
I really hope that I've gotten you at least interested in getting a webcam. You can't really understand how wonderful they are, as I didn't, until you actually use one with your family and friends. Talking to each other on the screen, instead of on the phone, is just so much better.
If you give a webcam a try, email us and let us know how you like it.



---
| | |
| --- | --- |
| | Click to send us a comment |
---

Recent Deer Sightings In Bellport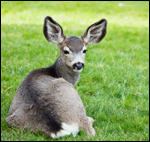 Bellport.com recently received the following note from Dava Stravinsky, a concerned resident:

"Yesterday at the Bellport Garden Club board meeting we were discussing how many people had seen deer in their yards. It seems there are many--some on Maplewood near the Gateway, four in a yard on South Howells, etc. I was wondering if you might want to start a "deer watch" on the website. I hope the problem never gets to be as significant as it is in Brookhaven hamlet where many deer have run into cars on Beaver Dam Road this year. They have caused much destruction of landscaping, etc. and it might be of interest to people to know that they have been sighted in the village--when and where. As winter progresses they should also seek more and more food so sightings may only increase."

Have you seen a deer lately and would like to tell others where it was seen? Would you like to send us a comment about this article or read what others have to say? Click below to send us your own comments.
---
Deer Sighting Comments...
---

8/26/2014, Charles Andrews wrote...
A large mother deer with her still spotted doe were seen in the back lawn at 46 Bellport Lane on 8/19/14. The doe was eating from the round garden while mother looked on.

---

11/21/2013, Beth Beyer wrote...
Watched a buck with small, uneven antlers walk up my neighbor's driveway, next to the creek that runs at the end of my block. 2-3 minutes later he ambled through the neighbor's backyard & into mine, disappearing behind my garage (headed for the next street over).

---

11/17/2013, Betty Gundlach wrote...
As I look over my pathetic looking garden I long for the days when a deer sighting was a welcome and unusual occurrence. These days, seeing a deer is as common as seeing a squirrel on Donack Lane in Bellport.

---

4/12/2013, Zabby Scott wrote...
Deer sightings? Here on Burnett Lane deer are our constant companions. At times, when we drive home down the lane, it looks like Africa! When we disturb our white tailed friends, they hiss at us and stamp their hooves. They barely move out of the way of our cars, so used to them are they. They have taken over this part of the Hamlet and have staked their claims to the place. What is distressing is that they do not look healthy this year, not to mention the health risk they pose for us. I dread the ticks this spring!

---

8/15/2011, Joan Napolitano wrote...
Doe walking down Golf Course Road in Bellport. First time ever seen one on my block!

---

11/29/2010, Tom Wilson wrote...
Brought my two year old daughter and four year old son out in our back yard, Champlin Ave., and one large doe was eating crab apples from our tree and her little bambi was on the other side of the fence waiting for mom. My son tried to walk up and pet mom but she left the crab apples and jumped the fence with great ease and disappeared into woods behind our home.

---

9/29/2010, Jennifer Fountaine wrote...
I live in Patchogue Shores and this past summer we have come face to face with a family of about 4 female dear. The seem to reside in the woods that run along out street and can be found in the middle of the day just hanging out in the road (we live on a dead end) Dear are beautiful to look at however I do consider them a problem due to the large cases of Lyme disease that have occurred on LI and to many of my family members...

---

7/25/2010, Kelly Rumm of Bellport wrote...
I spot deer while I'm walking at 6am near cemetery and new development on head of neck road. They are so graceful and I am saddened when we destroy their habitat and build homes. We need to save the deer and their homes so they can continue to frolic in Bellport.

---

3/9/2010, Leslie O'Connor of Bellport wrote...
Two adolescent deer ran across Beaver Dam Road this week -- surprisingly, not in Brookhaven Hamlet, but just east of the intersection with Station Road! Please be alert when driving.

---

12/22/2009, Frank Virno of East Patchogue wrote...
My family and I have had many deer sightings on our property and in our neighborhood this fall. We live on Bay Rd. at the end of Woodacres Rd. in East Patchogue. Just west of the Country Club. We have seen many deer, including a Buck, which we rarely see.

One sighting that stands out above all was on a morning in early December. We looked out our kitchen window and saw a group of 3 deer in our back yard. It appeared to be one Doe with her 2 Fawns. They were just content to wander around the yard for several minutes until they heard a noise and bounded into the neighbors yard.

---

12/22/2008, Trish Gallina of Bellport wrote...
I am a 5th grade teacher at Frank P. Long Intermediate School. My classroom overlooks the field in back of the school. Almost on a daily basis, we have been watching what seems to be a family of deer. Some days they are right outside of our window. The children love the sight of the deer, and so do I. They truly are beautiful animals, and they do no intentional harm. I find it very disheartening to know that many want to kill them for fear of ruining their bushes. From what I understand there are treatments for the bushes that will keep the deer from eating them. I understand that some people believe them to be hazardous to drivers. Well I think all of us drivers in the area should slow down a bit, especially knowing that there are deer around. Slow down also, and notice the beauty around you. In my classroom we take a little time each day to notice the beauty, and when I watch the children's reactions I can only smile.


---

10/20/2008, Tom Lerner of Bellport wrote...
As a native of Suffolk County, deer have been a part of my life. They belong here. They are true natives. I enjoy seeing them, hunting them, and eating them. Without them, the place would seem sterile and empty. Those people who do not appreciate our wildlife should stay in the city. There they can enjoy true wild life "human predators."


---

7/17/2008, Bob Scalia of Bellport wrote...

9th fairway on Friday and Saturday 7/11 & 12


---

1/15/2008, Bob Scalia of Bellport wrote...
Saw a Doe heading east at Head of the Neck and Munsell - 5:15 AM on 1/8/08


---

12/2/2007, Mary & Tom McCarthy - D'Angelis of Bellport wrote...

Sat - 12/1/07 - 9pm - Maplewood Drive - A Doe and baby hopping into the woods across from The Gateway parking lot.


---

11/23/2007, Mary & Tom McCarthy - D'Angelis of Bellport wrote...
Another big beautiful doe the day before Thanksgiving on our front lawn about 10am.
---

11/20/2007, Victoria Mary Stong of NYC wrote...
I grew up in Bellport but now live in Long Island City, Queens. I just wanted to remind people that it's humans that are encroaching on animals land on a regular basis when they do logging and building. As long as they don't attack humans, we should try to enjoy them. Otherwise instead of complaining, with all due respect, get an animal agency to catch them and release them to a safe habitat where there's plenty of space. There better than Bears wandering around!


---

11/20/2007, Lloyd Ferraro of Bellport wrote...
We live on Thornhedge south of Otis and sporadically see one or two deer basically slowly passing through our back yard. They have done no damage to date are are a beautiful part of the ecosystem to watch. If local residents (and visitors) would keep their speed down in our neighborhoods, I believe car/deer incidents would rapidly decline. Even small local streets seem to have become drag strips as of late.


---

11/18/2007, Laurie Hunter of Bellport wrote...
We have had several deer in our yard (front and back) here on North Brewster Lane. I have seen them in the Methodist Church field across from my house, over near Gateway Playhouse (where I work) .. as well as running down Kreamer Street when I was dropping my son off at school. I have a 4 foot fence that the deer have no problem getting over. Deer sightings have become a daily occurrence for us.


---

11/15/2007, Rich Rauch of Bellport wrote...
My family and I often see deer eating in my neighbors yard. We have seen a mother and her two babies. I live on Third Street at the dead end closer to the Gateway. The deer are beautiful to see and it is an enjoyable way to wake up. We see them often running north or south on North Brewster. It must be their "cut through". My family and I will continue enjoying their gracefulness and alertness. They are amazing animals to watch.


---

11/15/2007, Finn Rauch of Bellport wrote...
I saw deer outside my bedroom window this morning when I woke up. First my mom spotted them then she told me and I saw them. I plan to leave carrots for them to eat. I am 7 years old. I live on 3rd Street.


---

11/13/2007, Robert Scalia of Bellport wrote...
There were several sightings at the Country Club along & in Howell's Creek from the 9th hole to the bay.


---

11/13/2007, Frances Bernstein of Bellport wrote...
On November 3 at 5 am my husband saw one deer near the dock heading north on Bellport Lane. We live on (South) Brewster Lane and see deer occasionally around here.


---

11/12/2007, Mary & Tom McCarthy-D'Angelis of Bellport wrote...
We saw four deer last Wednesday 11/7 - two babies and two adults - they were beautiful - this is unusual as in 24 years on Mott Stream (behind the Gateway) deer usually only show up in the dead of winter. Thursday 11/8 we also saw a beautiful deer run in front of our car on South Country Road between Maplewood and Brewster about 8pm.


---

1/25/2007, Heidi Gaumet of Bellport wrote...

When I first started reading your comment, I thought your concern was for the deer, not for cars or plants. It is heartbreaking that all of the construction in the area is pushing the deer out of their natural habitat and into the streets to their deaths. I live at the Atlantic Point Townhouse Complex in Bellport and in the past three years the beautiful woods surrounding our complex have been torn down to put up businesses and a horribly large warehouse on Sawgrass Road. I would love to see a relocation or sterilization program for the deer. They don't stand a chance here with their land being taken away. They are often in our backyard and I have seen different groups come and go. Most often they are killed on Station Road or Woodside Avenue. It's a shame what we are doing to nature by taking their land. It's even worse when we consider THEM a nuisance when we are the problem.


---

12/21/2006, Zoraida Vaher of Bellport wrote...
I bought my first house in Bellport a year ago. Since that time, I've seen 3 deer and can tell you that as a born and bred city girl, it delights me to no end that I am this close to nature. I am far more disturbed by the number of dead cats, dogs, raccoons, and opossums I see along Station Road. PLEASE, there is no reason to sound the alarm where there is no need. Secure your property in a humane manner and leave the deer alone.


---

12/12/2006, Joe Poplees of Bellport wrote...
This is a great idea. I live on Maple Ave, between Association and Head of the Neck. There have been a few sightings already this fall, most likely caused by the construction on the old Grucci property.


---

12/12/2006, George Penny of Bellport wrote...
I have often seen deer at Mothers' Beach lately. The item you printed seems to insinuate that they are a menace and should be eliminated. This is the country, not Park Avenue and they are a part of our way of life. Leave them alone!
---
| | |
| --- | --- |
| | Click to send us a comment |
---
Researching The History Of Your House
On Friday, October 13, 2006, Sharon Pullen, from the Historic Documents Library at the Office of the County Clerk gave a talk on "Researching The History Of Your House." Here are her notes from the meeting...
RESEARCHING THE HISTORY OF YOUR HOUSE
The Office of the County Clerk holds land records dating from the mid -1600's. These do not usually contain descriptions of the house or other buildings found on the land. Even so, a deed is a good place to begin researching the history of your house. Following are some first steps you should take to start this research.
Read your current deed. Make a note of the Liber (book) and page number, which will be listed on the upper right hand corner of the deed. At the end of the description of your property you may find references to the prior deed and the Liber and page number where it was recorded. Make a note of those numbers too.


Go to the Public Access Room in the Office of the County Clerk and look up your deed on the computers there. Ask for help in printing out the history section that shows the earliest document about your property that is recorded in the computer system.


Go to the Records Room in the Office of the Suffolk County Clerk at the County Center in Riverhead.


Go to the rows of numbered Deed Libers and find the lowest numbered Liber you found for your property. This deed may refer you to an earlier one. Work your way backward through earlier deeds.


If you have no Liber numbers on your deed, or if the computer system has no information on the history, you can still research your house. Begin with last name of the person from whom you bought your house and look that name up in the indexes in the Record Room. Land records before 1978 are indexed by both GRANTEE (buyer) and GRANTOR (seller) in large index books in the Records Room. These volumes are located on opposite sides of the room. The aisle containing the Grantor indexes has a sign hanging from the ceiling at the end of the aisle. The Grantee indexes that reference the oldest of the deeds are not indicated by a sign, go to the Historic Documents Library and the Archivist will show you where to find those books.


The Grantor/Grantee indexes are organized as follows: From 1660-1950, all of Suffolk County is indexed in one set of books, arranged alphabetically, by the first letter of the last name, inside each volume, the records are arranged by the first letter of the first name.

Beginning in 1951 through 1969 the records are divided by Town and within each town they are arranged as described above.


There are also Mortgage Libers in the Records Room. Many times the mortgage on a property is referenced in the deed. In the case of earlier deeds this may sometimes be a good indication of when a house was constructed on a piece of land.


As you work your way backward through the earlier deeds, you may come to one that is deeded to someone as the heir of a deceased person. Make a note of that person's name in order to look up the will at the Surrogate's Court. Many times wills are more descriptive of houses than are deeds.


Building permits were, in general, not issued before the early 1920's but you may find reference to a "date of origin" for a house on early permits. These will be on file at your Town Clerk's Office or in the Building Department. Keep in mind that this date was given by the person applying for the building permit and may be an approximate date.

OTHER HELPFUL RECORDS
Records in the Historic Documents Library include several large bound Atlases of various portions of Suffolk County. The earliest one is dated c. 1873. Many of these include the property owners' names. Buildings and houses are also indicated on several of the atlases, sometimes with numbers that signify the number of stories in the house.
There is also a collection of Sanborn Company maps. This company, started in 1867 by D. A. Sanborn was the major provider of maps to the insurance industry for more than a hundred years. Although the collection here does not cover all of Suffolk County, the entire collection of Sanborn maps for the state of New York can be found at SUNY Stony Brook library on microfilm. These maps show buildings and are coded to indicate the type of construction, such as, wood or steel frame.
Researching the history of your house is usually a time-consuming process; so make sure you are ready to spend most of the day at County Center when you make your trip. There are copy machines available in the Records Room (25¢ a page). Some of the older deed volumes have been encapsulated in Mylar, which makes photocopying difficult, so you may have to transcribe the information you find there. There is a Cafeteria in the building. Remember to bring paper and a pencil for taking notes.
GLOSSARY
Grantor- one that conveys property or a right in property by deed
Grantee - one to whom a grant by deed is made
Mortgagor- The borrower in a mortgage agreement. Sometimes spelled mortgager.
Mortgagee- The creditor or lender in a mortgage agreement.
Deed- A document sealed as an instrument of bond, contract, or conveyance, especially relating to property.
Mortgage -
A temporary, conditional pledge of property to a creditor as security for performance of an obligation or repayment of a debt.
A contract or deed specifying the terms of a mortgage.
The claim of a mortgagee upon mortgaged property.
Lien- When a creditor or bank has the right to sell the mortgaged or collateral property of those who fail to meet the obligations of a loan contract.
Notary public- someone legally empowered to witness signatures and certify a document's validity and to take depositions
Acknowledgement- the formal certificate made by an officer before whom one has acknowledged a deed including as an essential part the signature and often the seal of the officer.
The National Register of Historic Places is the Nation's official list of cultural resources worthy of preservation. Authorized under the National Historic Preservation Act of 1966, the National Register is part of a national program to coordinate and support public and private efforts to identify, evaluate, and protect our historic and archeological resources. Properties listed in the Register include districts, sites, buildings, structures, and objects that are significant in American history, architecture, archeology, engineering, and culture. The National Register is administered by the National Park Service, which is part of the U.S. Department of the Interior. http://www.cr.nps.gov/nr/index.htm
New York State historic Preservation Office - http://nysparks.state.ny.us/shpo/
---
Researching Your Home Comments...
---

4/3/2012, Dale Hawkins wrote...
My home has been owned by my grandparents, my parents, my ex-husband & myself, and now just me.....for the last almost-100 years. Just one family line since it was built. Pretty easy research.


---

3/14/2010, Frederic Jones wrote...
I spent the summers until 1944 with my grandparents. Frederic Walter and Estelle Raphun Jones, at their home on North Howells Point RD. I have a nice collection of photos of that home, from 1925 to 1943, as well as family members and era cars. My grandfather died in December, 1943 and my grandmother moved to the Fifth avenue Hotel, in The City, and later The Glengarriff Nursing Home. Both of my grandparents are buried in Woodland Cemetery.

I have recently googled and located a satellite photo of the home and it appears to resemble the home as I knew it. However, I am uncertain of the exact address. If someone, including the current residents would like to share information on these Bellport residents, I would appreciate hearing from them. I attended the Methodist Church with my grandfather Fred. My grandmother attended the Episcopal church and enrolled me in their summer programs. Fred's brother, Bill and wife Evelyn, as well as his sister Marie, rented a home each summer and I have a photo of that home as well. In addition Madge and William (Hamilton?) were long term employees of the Joneses in both Bellport and Coral Gables, Florida, where I was born. My wife Lynn, and I, hope to visit Bellport this year from our current residences in Charleston, S.C. and Sapphire, N.C.

We would be pleased to hear from anyone who wishes to share information. Please email jones.frederic76@gmail.com.


---

1/23/2008, Barbara Knowles of Bellport wrote...
That was a very good article with lots of pertinent information. (We live in what was once a barn for the property on Bellport Lane so its history as a house goes back to about 1830 we guess.)
---
| | |
| --- | --- |
| | Click to send us a comment |
---