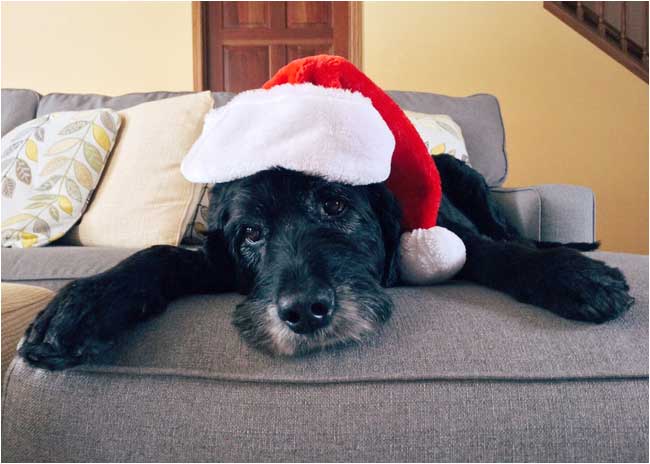 "Holiday Pets" Photo Contest
It's time for a new Bellport.com Photo Contest! This time we want your photos showing off your pets celebrating the Holidays- any holiday between Thanksgiving and New Year's Day! Photos must be submitted by 10pm on Sunday, January 2nd, 2022. Happy Shooting!
The winner with the most votes for their photograph will receive a $100 Gift Certificate to Pamela Lerner Home & Design. Pamela Lerner Home & Design is the place to go when you want something that is truly one of a kind. An eclectic mix of classic and modern forms that span across many different countries and time periods, her showroom is ever-changing and evolving. You can always expect to come across something new and unique when you walk through her door.

The shop is filled with an unusual mix of furniture, mirrors, lighting, and decorative arts which magically all work together for today's modern living. Whether in search of the perfect lamp, just the right gift, or a little something for yourself, you're in the right place. Pamela has everything from luxury boutique items, new and vintage fabulous jewelry, to something as simple and unique to her shop as "The Bellport Candle."
Click here to see past Bellport.com Photo Contest Winners.
---

How to Submit a Photo
Submitting a photo is easy!

1. Select your best photograph of your favorite furry (or not so furry) friend, and email it to photos@bellport.com. For this photo contest, we are limiting everyone to one photo submission per person.

2. With your photo please include:
- Your name
- Your pet's name
- Type of pet
- Your city/town
- A sentence or two telling us about your pet and how they celebrate the Holidays.

There is no need to resize your images before you send them to us. Please submit your photos in as large a pixel size as possible.

Past Photo Contest Winners: Past contest winners are kindly asked not to enter the photo contest following their win, in order to give a greater number of people the chance to win any Bellport.com Photo Contest. Winners need to only sit out the contest immediately following their win. They are welcome and encouraged to enter any photo contests after that! Questions? Email us!

A word about copyright: By sending us your photographs, you are in no way giving us any rights to do anything with your photographs other than to display them here on Bellport.com. We will not give anyone else any rights to your photographs nor will we use them in any other way without your permission.

However, you should understand that the internet, relatively speaking, is still the "Wild West" when it comes to maintaining control over your work. We've already had several instances of people copying material from Bellport.com and using it on their own websites. They removed the material when we politely pointed out to them that they can't do that, but the point is that you have to keep an eye out for abuses of the copyright rules. For this reason, Bellport.com can not be responsible for what other people do and how they use material they copy without permission from Bellport.com.

You should only submit photos if you understand and agree to the above. If you have any questions about any of this, we'd be glad to discuss them with you.