Address: 161 South Country Road, Bellport NY 11713 MAP
Phone: 631-286-0273
Email: BellportFD@gmail.com
---

The Bellport Fire Department Can Be Counted On For A Lot More Than Putting Out Fires!
Once again, with the help of the Bellport Fire Department, Santa visited children in our area giving out candy canes as he rode from street to street. This is just one of the many services performed by the Bellport Fire Department each year.

Most people don't realize that programs like this aren't paid for by the taxes paid to the Fire Department each year. Those taxes go strictly to the costs involved fighting fires. Instead, programs like Santa's Candy Cane Run are paid for by donations made to the Fire Department and the Fund Raisers the Fire Department runs from time to time. Great work Bellport Fire Department guys and gals!!!
Santa seems to have been on a diet!

An Elf???

Gotta get that beard just right.

First, all of the Candy Canes
have to be unpacked

.

There sure are a lot of them.

Here comes Santa Claus!

Those sirens sure are LOUD!

Santa's Helpers give out
the Candy Canes.

Patiently waiting for Santa.

One for each of you.

Our Volunteer Fire Department is the best!
---

Santa And The Bellport Fire Department Visit Mr. Smith
While giving out candy canes and visiting the children in our community, Santa and members of the Bellport Fire Department took time out to visit with Robert Smith at Bellehaven. It seems Mr. Smith is a real Fire Department fan. He was given a plaque by Chief Dane Hartmann and Second Chief Jason Crane. The plaque will now hang in Mr. Smith's room at Bellehaven. This is truly what this season is all about, bringing joy to someone else.

---

Brush Fire Safety Tips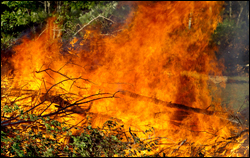 With winter behind us, we are now starting to enjoy some warm weather. Warm, breezy spring weather means dry vegetation that can result in brush fires that burn and spread quickly. Burning embers from brush fires can be carried on the wind causing multiple fires. Many homeowners are tempted to try extinguishing fires themselves before calling the fire department. If you should spot a brush fire your best action is to notify the Bellport Fire Department immediately by dialing 911. Homeowners living in proximity to woodland areas should take some landscaping and home maintenance steps to ensure safer surroundings.



Landscaping Tips
Keep grass around your home cut and watered

.

Remove dead and piled up vegetation from your property.

Store firewood away from structures.

Plants trees and shrubs with room to grow. The distance from tree to house should always be greater than the height of the tree.

Try not to use plants that develop dead undergrowth.

Do not place plants too close to structures and under overhangs or eaves.

Water often to keep plants healthy and green.

Keep sprinkler systems in good working order.

Trim dead wood off of trees.
Home Maintenance Tips
Trash and debris should be properly disposed of. Piles of trash, old home furnishings, boxes and even cars are potential fire hazards.
Store flammable liquids, and chemicals such fertilizer and pool chlorine properly.
Always dispose of cigarettes carefully.
Keep roofs clean and clear of leaves and dead branches.
---

Remembering the March 8, 1963 Fire at Bellport High School

An entire school building was reduced to ruins. Miraculously, no lives were lost. Volunteer fire fighters, school staff, emergency response teams, BMH medical staff, the Suffolk Country Police Department, and scores of volunteers who rushed to the scene helped avoid an even greater tragedy.

Click here to read the article.